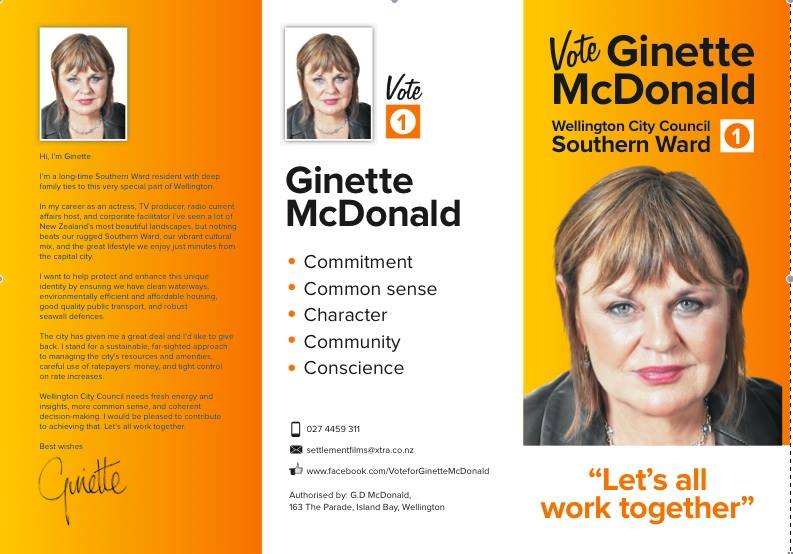 Source:WCC Watch
Location: Unknown
Transcript:
Hi, I'm Ginette.
I'm a long-time Southern Ward resident with deep family ties to this very special part of Wellington.
In my career as an actress, TV producer, radio current affairs host, and corporate facilitator I've seen a lot of New Zealand's most beautiful landscapes, but nothing beats our rugged Southern Ward, our vibrants cultural mix, and the great lifestyle we enjoy just minutes from the capital city.
I want to help protect and enhance this unique identity by ensuring we have clean waterways, environmentally efficient and affordable housing, good quality public transport, and robust seawall defences.
The city has given me a great deal and I'd like to give back. I stand for a sustainable, far-sighted approach to managing the city's resources and amenities, careful use of ratepayers' money, and tight control on rate increases.
Wellington City Council needs fresh energy and insights, more common sense, and coherent decision making. I would be please to contribute to achieving that. Let's all work together.
Best wishes.
Ginette.
Vote 1
Ginette McDonald
Commitment
Common sense
Character
Community
Conscience
027 4459 311
settlementfilms@xtra.co.nz
facebook.com/VoteforGinetteMcDonald
Authorised by: G.D McDonald,
163 The Parade, Island Bay, Wellington
Vote Ginette McDonald
Wellington City Council
Southern Ward 1
"Let's all work together"
Ginette McDonald – 2013 Local Election